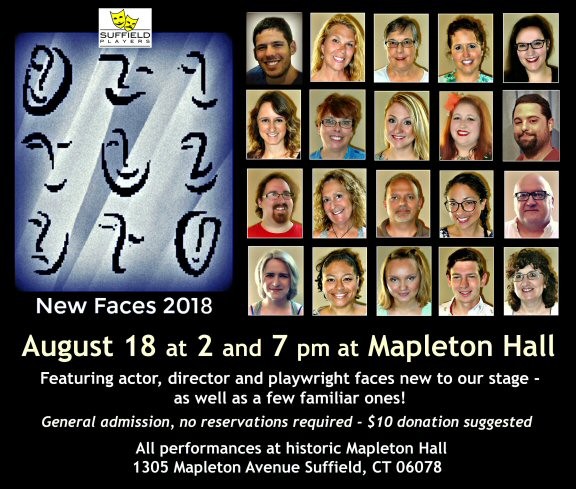 NEW FACES 2018
In rehearsal
A collection of short plays showcasing (almost) never-before-seen-on-our-stage actors and/or directors.
Rehearsal shots

Adam Dabkowski and Zoey Roland in The Perfect Joint
by Amanda Keating, directed by Dorrie Mitchell.
Josh Prouser, Shaun O'Keefe, Kelly Roland in Character Disorder
written and directed by Konrad Rogowski.
(director Bruce), Micah Fiedler, and Zach Gray
in What's A Little Ax Between Friends
by Joe Starzyk, directed by Bruce Torrey
Eric Woodsides, Ryan Bird, Lexi Fox, and Laura Coates in
When Irish Eyes are Flirting by Joe Starzyk, directed by Zach Gray.
Danyle Kemp, Cynthia Claudio, Christen Feola, and Regina Erpenbeck
in Soccer Moms by Joe Starzyk, directed by Rachel Berezin.
Aimee Lamontagne, Suzanne Romano, (director Tom), Steven Close and Michael LaChance
in For The Love of Noodles by Joe Starzyk, directed by Tom Hebert.
Doors open one half hour before curtain.
Other Theatre links:
In The Spotlight, Inc.
The Connecticut Callboard
Connecticut Gilbert and Sullivan Society




(860) 668-0837
1-800-289-6148

Member, Suffield Chamber of Commerce
Any photos in this site not otherwise credited are © Gniranad Publishing.
© 2017 The Suffield Players, Inc. All Rights Reserved